Company AMPOWER
Our goal is to enable our customers to successfully integrate Additive Manufacturing into their business to sustainably benefit from the new technology.
AMPOWER is the leading consultancy in the field of industrial Additive Manufacturing. AMPOWER advises their clients on strategic decisions by developing and analyzing market scenarios as well as compiling technology studies. On operational level, AMPOWER supports the introduction of Additive Manufacturing through targeted training programs as well as identification and development of components suitable for production. Further services include the setup of quality management and support in qualification of internal and external machine capacity. The company was founded in 2017 is based in Hamburg, Germany.
Co-Founders and Managing Partners
AMPOWER Leadership Team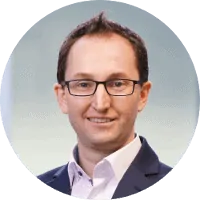 Dr. Maximilian Munsch
Maximilian is a professional user of Additive Manufacturing since 2007. After finishing his dissertation on reduction of residual stresses in metal Additive Manufacturing in 2012, he acquired extensive hands-on experience with different Powder Bed Fusion processes in regulated industry before co-founding AMPOWER in 2017. As Managing Partner at AMPOWER, Max focuses on data analysis, market intelligence and due diligence investigations.
Matthias Schmidt-Lehr
Matthias successfully managed multiple projects in Additive Manufacturing with focus on business case and strategic development for AM users as well as system and material supplier. With a history in management consulting he has a wide experience in business development, strategy development and communication. At AMPOWER he led multiple projects concerning DED, BJT and Metal FDM as well as a wide range of polymer AM technologies.
Dr. Eric Wycisk
Since 2008 Eric successfully supports OEMs from aerospace, medical and automotive to identify Additive Manufacturing applications and implement production capacities in their regulated environments. With a background in topology optimization, titanium alloys and fatigue he is focused on achieving the maximum part performance with the right AM technology.
Goal-oriented
The goals of our clients are our priority. This principle forms the basis for our consulting activities.
Trustworthy
Unrestricted trustworthiness is essential for our customer relations and the prerequisite for successful and close cooperation.
Independent
Independence as core value in every project. Our advice is solely based on our believes and free from outside influence.
You need guidance on Additive Manufacturing?
Follow us on social media